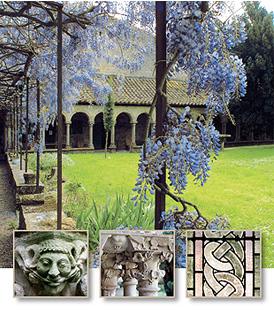 News from the Abbey
Voyage au pays des Romantiques
Sun, 19 July 2015
Concert à 17 H 30:
Lydie BARKEF : PIANO – oeuvres de LISZT, KABALESVSKI
Suren SHAHI-DJANIAN : BASSE – Oeuvres romantiques  pour voix de BASSE  : Borodine, Tchaikovski, Rachmaninov
Entrée : 15€, 13€ pour les membres de l'association des amis de l'Abbaye de Villelongue
Renseignements et réservations : association des Amis de l'Abbaye de Villelongue - Tél : 04 68 24 90 38
La voix dans les cultures du pourtour méditerranéen
Sun, 26 July 2015
2ème festival « Musica Mediterranea » :
La voix dans les cultures du pourtour  méditerranéen..
Concert à 18H : Oriental'issima, chant italo-corse et violon arabo-andalou 
Nadine Rossello : chant  -   Brahim Dhour : luth et violon oriental
lLui, musicien virtuose arabo-andalou déroule un fil imaginaire avec son luth et son violon oriental jusqu'à Elle, chanteuse italo-corse à la voix puissante et sensuelle. Comme un pont entre Orient et Occident, comme pour dire que les frontières n'existent pas, que les uns se sont nourris des influences des autres et vice-versa, que tout se rejoint.
Brahim Dhour et Nadine Rossello mêlent leurs musiques, leurs cultures, accompagnés dans l'aventure par le sculpteur de sons Laurent Paris aux percussions légères, pour un parcours tout en finesse et en harmonie..
Entrée 15 €, tarif réduit et membres de l'association des amis de l'abbaye : 13€
Renseignements :
04.68.24.90.38
'The soul of Villelongue, once a place of prayers and contemplation, abandoned by man and marked by the ravages of time, has been rekindled step by step.
Isolated at the end of the 'Vallé longue, by the side of a river and hidden by ancient trees, the Cistercian Abbey of Villelongue rises. It is a collection of buildings of the 12th century of the greatest historic and architectural interest.
We hope that visitors or guests for one short night may take away with them a little of this Cistercian dream.'
The Cistercian Abbey of Villelongue is situated at 20 km from the Cité of Carcassonne and at 10 km from the Canal du Midi, both major UNESCO World Heritage Sites of the department of the Aude. The book village of Montolieu (a small version of Haye-on-Wye) lies at 6 km from the Abbey.
The Abbey of Villelongue is a member of the following: