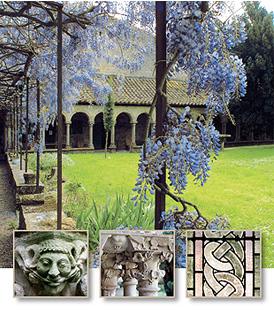 News from the Abbey
La voix dans les cultures du pourtour méditerranéen
Sun, 02 August 2015
2ème festival « Musica Mediterranea » :
La voix dans les cultures du pourtour  méditerranéen..
Concert à 18 H 
Xinarca, chant Corse

XINARCA offre un répertoire autour du chant traditionnel corse monodique : chants sacrés, chants de la tradition des chants de montagnes (chants anciens et compositions).
Il s'accompagne d'un instrument rare, la cetera d'Oletta âgée de 200 ans (cistre corse à 16 cordes), unique cetera ancienne jouée encore aujourd'hui.
Xinarca perpétue de sa voix profonde et envoûtante la langue et les traditions corses.
15€, 13 € pour les membres de l'association des amis de l'abbaye de Villelongue
Renseignements Association Les Amis de l'Abbaye de Villelongue 04 68 24 90 38
'The soul of Villelongue, once a place of prayers and contemplation, abandoned by man and marked by the ravages of time, has been rekindled step by step.
Isolated at the end of the 'Vallé longue, by the side of a river and hidden by ancient trees, the Cistercian Abbey of Villelongue rises. It is a collection of buildings of the 12th century of the greatest historic and architectural interest.
We hope that visitors or guests for one short night may take away with them a little of this Cistercian dream.'
The Cistercian Abbey of Villelongue is situated at 20 km from the Cité of Carcassonne and at 10 km from the Canal du Midi, both major UNESCO World Heritage Sites of the department of the Aude. The book village of Montolieu (a small version of Haye-on-Wye) lies at 6 km from the Abbey.
The Abbey of Villelongue is a member of the following: