News from the Abbey
Soyez fous de Patrimoine !
Thu, 19 November 2015
Help us to save the Abbey of Villelongue. Donate Ulule.com on the website .
VMF strong foundation supports this project. For every euro paid by a user, VMF Foundation will contribute € 1 (a limit of € 5,000)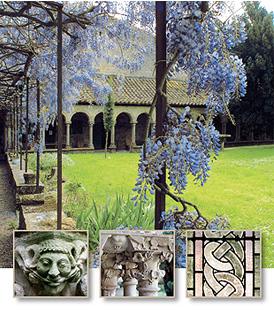 'The soul of Villelongue, once a place of prayers and contemplation, abandoned by man and marked by the ravages of time, has been rekindled step by step.
Isolated at the end of the 'Vallé longue, by the side of a river and hidden by ancient trees, the Cistercian Abbey of Villelongue rises. It is a collection of buildings of the 12th century of the greatest historic and architectural interest.
We hope that visitors or guests for one short night may take away with them a little of this Cistercian dream.'
The Cistercian Abbey of Villelongue is situated at 20 km from the Cité of Carcassonne and at 10 km from the Canal du Midi, both major UNESCO World Heritage Sites of the department of the Aude. The book village of Montolieu (a small version of Haye-on-Wye) lies at 6 km from the Abbey.
The Abbey of Villelongue is a member of the following: