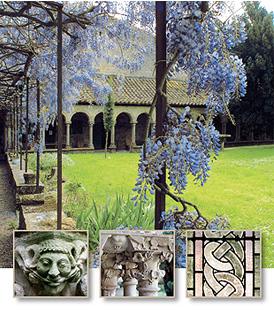 News from the Abbey
La voix dans les cultures du pourtour méditerranéen
Sun, 06 September 2015
Joï trio
ces trois acolytes cherchent sous la poussière les notes encore vivantes de ces musiques anciennes. Cantigas de Santa Maria, cansos de Trobaïritz et bien d'autres manuscrits prennent vie entre leurs mains percussives, leurs cordes vocales et frottées.Toutes chargées de leur fraîcheur, les portées se dérident et les notes s'envolent.
Joï trio
fait briller les vieilles marmites culottées avec leur verve actuelle et leur joie pétillante.Ecoutez leur musique, vous percevrez leurs rires !
15€, 13€ pour les membres de l'association des amis de l'abbaye de Villelongue
Association des Amis de l'Abbaye de Villelongue : 04.68.24.90.38
'The soul of Villelongue, once a place of prayers and contemplation, abandoned by man and marked by the ravages of time, has been rekindled step by step.
Isolated at the end of the 'Vallé longue, by the side of a river and hidden by ancient trees, the Cistercian Abbey of Villelongue rises. It is a collection of buildings of the 12th century of the greatest historic and architectural interest.
We hope that visitors or guests for one short night may take away with them a little of this Cistercian dream.'
The Cistercian Abbey of Villelongue is situated at 20 km from the Cité of Carcassonne and at 10 km from the Canal du Midi, both major UNESCO World Heritage Sites of the department of the Aude. The book village of Montolieu (a small version of Haye-on-Wye) lies at 6 km from the Abbey.
The Abbey of Villelongue is a member of the following: